This app automatically shoots a series of still images at intervals then combines them into one movie. It's so easy to use: just select a time-lapse mode that most closely resembles what you are shooting and let the camera do the rest! The proper settings are automatically made for you, eliminating the need for time-consuming trial and error.
Eight time-lapse themes are available: Cloudy Sky, Night Sky, Night Scene, Sunset, Sunrise, Miniature, Standard, Custom. You can choose to save the still images as a series of photos instead of a movie.
Using Angle Shift Add-on, you can easily add pan, tilt, zoom and other effects to your time-lapse images.
[α7R II, α7S II] Silent Shooting and Shooting and saving in uncompressed RAW are now supported.
[α6300, α7S] Silent Shooting is now supported.
[α7 II, RX1R II] Shooting and saving in uncompressed RAW is now supported.
*Since the file size of the image is large, the [Interval] may be longer than the set value when shooting in uncompressed RAW format.
*Refer to
(Specifications)
for details.
[How to update the app from ver. 1.00]
Firstly remove ver. 1.00 out of the camera, then install the latest version.
You can remove it by MENU -> [Application] -> [Application Management] -> [Manage and Remove] on the camera.
[Application Version Supported by Your Camera]
The applicable version will differ based on camera model. The latest appropriate version will be automatically chosen on installation.
In case you use this application on a camera which is equipped with a built-in ND Filter, set ND Filter to Off or On instead of Auto.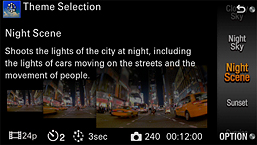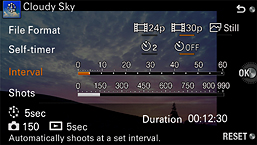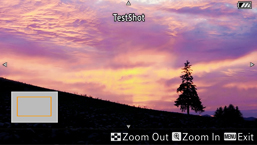 Update