This app lets users manually select correction values for lens peripheral shading, chromatic aberration and distortion. By saving the correction values as a lens profile, the same correction can be applied when shooting either still images or movies.
・Peripheral Shading: Corrects brightness, and the intensity of reds and blues, around the edges of images
・Chromatic Aberration: Corrects red and blue lateral aberration
・Distortion: Corrects barrel and pincushion distortion
The following lens information can be written to Exif data*1 even from lenses that do not ordinarily allow it*2
・Lens model: LensModel
・Focal length: FocalLength, FocalLengthIn35mmFilm
・F-number: FNumber
*1 Excludes some camera models. See specifications for details.
*2 See General Notes in specifications for your lenses.
[Import/Export of profiles]
Saved profiles can be used in other cameras by transferring them via memory card.

[Application Version Supported by Your Camera]
The applicable version will differ based on camera model. The latest appropriate version will be automatically chosen on installation.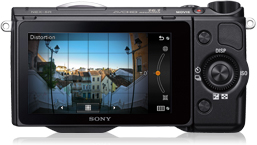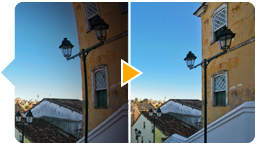 Update