This application shoots light traces drawn with a penlight or other light source to create photo art (light paintings). Light traces are automatically extracted from the image and can be superimposed on a background to create an art work. Unlike typical long-exposure light paintings, this app lication easily achieves light paintings without complicated camera settings or computer editing.

[Application Version Supported by Your Camera]
The applicable version will differ based on camera model. The latest appropriate version will be automatically chosen on installation.
1. Capturing light traces
Stabilize the camera using a tripod and take two shots to extract light traces.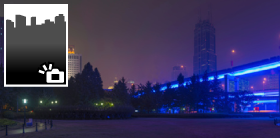 Step 1
Stabilize the camera with a tripod.
First, shoot a preparation image to extract light traces.


Step 2
Shoots light traces drawn using penlights, etc.
Draw light traces within the set paint time.
After this step, light traces are extracted from the
difference between Step1 and 2 image.

2. Shoot the background (scenery or people)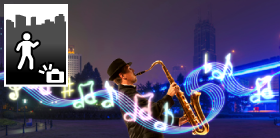 Step 3
Shoots background or portrait images to be
superimposed with light traces.
Check the position of the displayed light trace
when shooting.
You can shoot as many images as you like with
the light traces you just extracted.

Update