Subject to Sony Entertainment Network Terms of Service. Click here for details.

This application creates a Sound Photo, a photo with attached sound recorded shortly before and after shooting, that creates a sense of "being there" for the viewer. The user can set the length of the sound recording and the Sound Photo content can be viewed and played not only on the camera, but also on computers, mobile devices, TVs and other equipment.*
*
For more details, visit
[End of Direct Upload Distribution]
Distribution and support for Direct Upload, which worked with Sound Photo, ended on May 31, 2017. Thank you for using it.
From now on, please use PlayMemories Mobile instead to upload Sound Photo images to PlayMemories Online.

Use of this product is subject to the Sony Entertainment Network Terms of Service and the PlayMemories Camera Apps Application Terms and Conditions, reviewable through the links at the bottom of this page. Installation will start after you click "Install".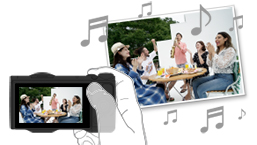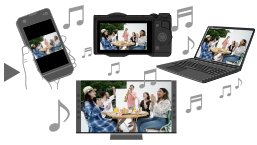 Update